MonoDrain is designed to be suitable for multiple applications, from domestic paving installations through to commercial and light industrial areas, for example:
Car Parks (Public and Private), Concrete or Stone installations, Paving installations, Thresholds and Public Landscaping.
Due to the robust one piece construction of MonoDrain it removes the risks associated with dislodged or stolen gratings, which makes MonoDrain ideal for applications such as:
Train Stations (Platforms), Schools, Hospitals and Prisons.
MonoDrain offers reduced installation time and reduced installation costs compared to our previous MonoBlock product. It is quicker to level a run of 1m MonoDrain channels compared to half meter sections, the added length also decreases the amount of time needed to seal the channels. Also, there's more time saved because there's no gratings to install. MonoDrain also offers significant installation savings due to the reduced 100mm concrete haunch required to achieve D400 load classification compared to 150mm required for MonoBlock, this can lead to savings up to £5.07 per metre* on the concrete (*based on price of concrete £90 August 2017).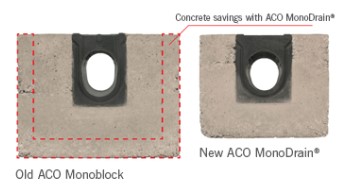 MonoDrain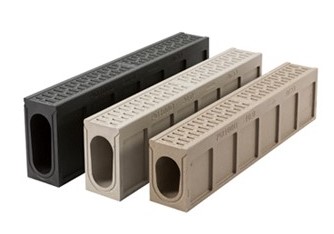 MonoDrain is available in three different colour finishes, Black, Grey and Natural and in two different widths, PD100D (100mm internal width) 150mm wide overall and PD150D (150mm internal width) 200mm wide overall.
Overall Dimensions
MonoDrain PD100D is available in the following depths:
PD100 0.0 - 185mm (160mm invert)
PD100D 10.0 - 225mm deep (200mm invert)
PD100D 20.0 - 265mm deep (240mm invert)
PD100D 30.0 - 305mm deep (280mm invert)
PD100D Shallow - 135mm deep (110mm invert)
MonoDrain PD150D is available in the following depths:
PD150D 0.0 – 235mm deep (210mm invert)
PD150D 10.0 – 275mm deep (250mm invert)
PD150D 20.0 – 315mm deep (290mm invert)
To view full product details please visit www.aco.co.uk