As standard MultiDrain M100D/DS, M150D/DS and M200D/DS channels are supplied in 1000mm lengths only, apart from 500mm junction channels. ACO DO NOT recommend cutting our MultiDrain channels as a standard practice.
When installing cut channel sections they should be "butted" to the adjacent channel using an appropriate sealant such as Sikaflex 11FC or Geocel 945 sealant or ACO Repair Kit.
Please note when cutting gratings, the exposed ends of galvanised steel and iron gratings are at risk of corrosion, the use of protective coatings, such as paint, can minimise the risk of corrosion.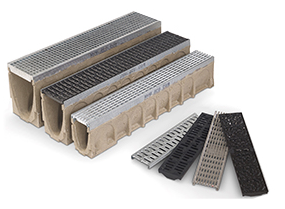 To view full product details please visit www.aco.co.uk