ACO S Range is designed to provide high performance drainage for heavy duty and industrial applications, from petrol station forecourts through to ports and docks, for example:
Car parking, HGV parking, Petrol station forecourts, Industrial applications, Distribution and warehouses, Ports and docks, and Aircraft pavements.
All S Range channels are installed complete with ductile iron gratings, all gratings are fully secured from movement with a bolt locking system, still allowing for 100% accessibility.
S Range channel drainage system is manufactured from Vienite (polymer concrete) our sustainable high strength material. It is available in four widths; 100mm (155mm overall), 150mm (205mm overall) and 200mm (260mm overall) and 300mm (360mm overall) and has a variety of depths and slopes.
The main benefits of S Range are:
Range of constant and sloped depth channels
Caters for extreme wheel loads such as aircraft pavements, ports and docks
Strong and robust channel design
Caters for a range of catchment depths
CE Marked and BS EN 1433: 2002 certificated to load class F900* (*NOT suitable for carriageways of public roads or motorways)
Choice of slotted, Heelguard, intercept and solid cover gratings on the 100mm wide system
All gratings come complete with locking bolts (8 x bolts per metre)
Sump and gully outlets available for connection to underground drainage
Manufactured from strong, lightweight Vienite material with recycled content
Integral cast iron edge rails provide maximum strength and protection for channel body
Interconnecting channel end detail to aid alignment during installation
Channel units have base knockouts for connection to 110mm (S100), 160mm (S150 and S200) and 200mm (S300) diameter PVC-U pipes
S Range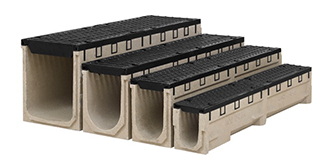 S Range is available in four different standard widths, with a range of depth and sloping options, and has a choice of four grating styles for the 100mm wide system offering load class options of E600 and F900 (subject to installation recommendations) while the 150mm, 200mm and 300mm wide systems are supplied complete with slotted ductile iron gratings only to load class F900.
Overall Dimensions
S Range S100 is available in the following depths:
S100 S01 - 137mm (112mm invert)
S100 S05 - 161mm deep (136mm invert)
S100 S010 - 191mm deep (166mm invert)
S100 S020 - 251mm deep (226mm invert)
S100 S030 - 311mm deep (286mm invert)
S Range S100 is also available with a range of built-in falls, please refer to our article "S100 Sloping" for further details.
S Range S150 is available in the following depths:
S150 1501 – 220mm deep (195mm invert)
S150 1502 – 270mm deep (245mm invert)
S150 1503 – 320mm deep (295mm invert)
S Range S200 is available in the following depth:
S200 2300 – 309mm deep (279mm invert)
S Range S300 is available in the following depth:
S300 2400 – 390mm deep (360mm invert)
For further information regarding the range of accessories available for S Range S100, S150, S200 and S300 please refer to our articles "S100 Accessories", "S150 Accessories", "S200 Accessories" and "S300 Accessories".