Please refer to the attached ACO Building + Landscape brochure for full installation details.
Please note GroundGuard can only be installed with gradients up to 5% when pegged.
1. Depending on soil conditions and intended use of the area to be stabilised, dig out the existing base e.g. typically for light vehicle traffic / parking areas, 200-300mm will suffice. With heavy wheel loads or a clay soil, 400mm may be necessary. NB. Seek independent engineering advice to determine required sub-base thickness and what drainage may be needed.
2. If using concrete edging pieces, install them next. If using ACO BorderGuard, install these between steps 4 and 5.
3. Compact the sub-base using a plate compactor. Fill the excavated area with free draining gravel or crushed stone to 100mm (grass) or 80mm (gravel) below the finished level. Tamp down with a roller or plate compactor.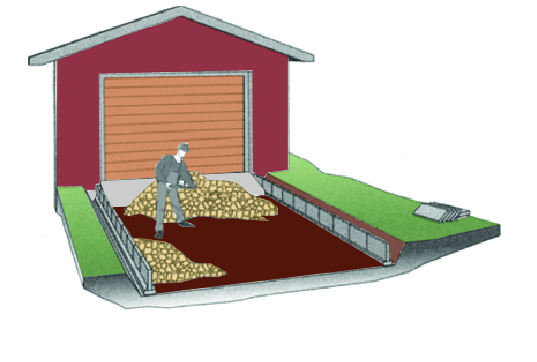 4. Level the area with a layer of fine aggregate or for grass sieve sand/soil* mix. Level using a rail or wooden batten and compact as shown in the diagram below.
5. If using ACO BorderGuard to edge the area, install it at this stage. Install ACO GroundGuard tiles along the length of the area. Then assemble ACO GroundGuard laterally. Interlock the fastening clips. For best performance the tiles should be laid in a staggered pattern rather than a grid pattern. Please refer to the diagram below.
6. If using ACO GroundGuard nails, peg every other tile using two nails per tile through the holes at the corner. ACO GroundGuard may be used on slopes up to a maximum of 5°: in this case every tile should be pegged in the way described previously. Fill in the ACO GroundGuard tiles with the chosen finish. For highly trafficked areas we recommend using a lawn seed suitable for parking use, typically a mix of ryegrass and fescue as recommended locally. If you wish, gravel can be used as fill instead. 6-14mm gravel is recommended.
ACO GroundGuard nails If the tiles need pegging, please contact the ACO Water Management Design Services Team for further information.
To view full product details please visit www.aco.co.uk