ACO K100 is one of our older discontinued product ranges in the UK. The channels were manufactured from polymer concrete with a galvanised steel protective edge rail and were available with a range of gratings in various finishes, and load classes from A15 through to E600. All gratings were secured in place by a central hexagon head bolt screwed into a locking bar (bolt & bar).
If you require replacement gratings, ACO can still supply an alternative Heelguard grating manufactured in black composite with a load class of C250 which will fit. This grating is ACO N100 No. 522 and is available in 500mm lengths only, the product code is 015704.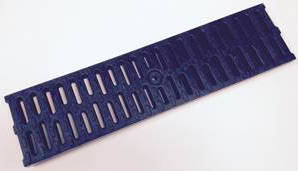 ACO can also still supply the replacement "bolt & bar" locking assembly to suit:
Locking Bar 113mm long (0751)
M8 x 60mm long locking bolt (2042)
Please contact your local preferred builder's merchant for pricing and availability.