ACO 522QL is the replacement grating for our older N100K channel drain. The grating is secured in place by a central domed head bolt secured into a locking bar (Quicklock).
These gratings can be difficult to remove for maintenance, so please follow our advice below:
The domed head fixing that you can see has a larger end which has been pushed through a spring-loaded catch to secure the grating in place, so to remove you need pull the grating upwards with sufficient force to allow the larger section of the bolt to pull through the spring loaded catch.
The spring may have ceased if they gratings haven't been removed for a period of time, so it may be worth spraying a lubricant into the fixing first, then using a couple of lifting tools or similar, spaced equally through the slots in the grating to either side of the fixing, then pull and the grating should release. We do offer a specific lifting tool, product code 1367 which will make removal easier.
Please take care not to damage the grating during removal.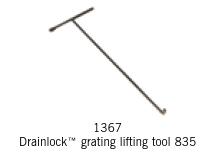 Should you require either replacement gratings or locking assemblies please refer to our article "N100K" in the ACO obsolete products section for product codes.
522QL Grating (product code 31710)